Pracujesz na umowie śmieciowej? Możemy pomóc!
Action against Impuls and Subminimum Wage
Anonim, nie., 27/07/2014 - 08:35
Image: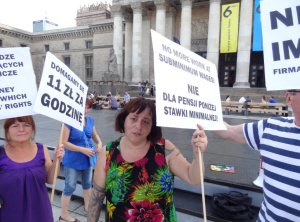 On July 26, ZSP organized an informational action at the Palace of Culture in Warsaw to protest the situation of the workers from Impuls agency and the fact that the city awarded a contract to the firm which is known to notoriously violate workers' rights. At the end of last year, after many protests at that firm, clients, including the city started to terminate contracts with the agency after finding out that they did not pay workers on time or at all. We made a special effort to contact the municipal authorities about the situation as they also worked in municipal offices. But it seems that they are still getting contracts at publically funded institutions and places run by the city.
The workers at the Palace of Culture haven't been paid for 4 months already.
Impuls is one company that simply needs to be shut down. It has never been a problem of occasional late payments with them. Not paying workers is their modus operandi. They expect most workers not to fight and take the loss. But Impuls workers from ZSP have fought and got at least their back pay. They also are fighting for unpaid benefits.
Impuls does not pay people the legal minimum wage because they use trash contracts. This means wages about 1/3 of the minimum wage.
ZSP will be campaigning this starting this fall to make working conditions a criteria for awarding public tenders. Currently, the main criteria is price, which means that if some company wants to pay a subminimum wage, they are at an advantage in public tenders. We think that this simply cannot be supported with public money. All the more so because it supports the destruction of stable jobs in favour of paying subminimum wages (or nothing at all).
Leaflet: No Subminimum Wage