Pracujesz na umowie śmieciowej? Możemy pomóc!
Appeal for Support for Magda, fired for union activity from Dino Supermarkets
Anonim, wt., 04/03/2014 - 12:13
Image: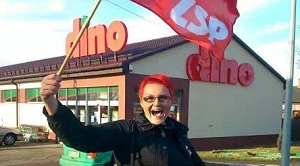 We are appealing for financial support for Magda, who is in a difficult situation because of her uncompromising struggle.
In the fall of 2013, the workers of some Dino supermarkets in Wielkopolska region formed a union, to fight for better working conditions. One of them was Magda. The supermarket got rid of her by not prolonging her contract. Magda had fought to get fork lifts since the workers were manually dragging too heavy weights, which could cause serious injury and to cut down on overtime hours, especially during holidays.
The regional bosses of structure to which the union belonged negotiated with the bosses behind her back and agreed not to fight for her reinstatement. They also tried to get her to take some money, in exchange for not protesting against the violation of workers' rights at Dino. But Magda decided to stick to her principles, join ZSP and keep fighting.
However, Magda is now in a difficult situation. She has been unemployed a couple of months, she lives in a small town and the bosses trade black lists, so it is difficult for her to find work. She decided to keep fighting for workers' rights but wound up in a difficult situation herself. So it is time to show some solidarity! So we ask for support from those who are not ambivalent towards the fight for workers' rights.
We have already sent some financial help for legal costs but there it is not enough and it may be some time before she is reinstated to Dino or finds a new job. Money is being collected on this account:
Jakub Gawlikowski
(PL) 05 1140 2004 0000 3702 4238 2269
BRE Bank S.A. Retail Banking, al. Mickiewicza 10, 90-050 Łódź
BIC/SWIFT: BREXPLPWMUL
SORT CODE: 11402004
with a note "for Magda"
More information on the campaign can be found here in English: http://www.zsp.net.pl/zsp/english
In Polish: https://zsp.net.pl/kampanie/dino
And information from the press: https://zsp.net.pl/zsp/media