Pracujesz na umowie śmieciowej? Możemy pomóc!
Conflict with Anima Media and the Bielsko-Zywiec Diocese
Anonim, nie., 31/07/2016 - 17:34
Image: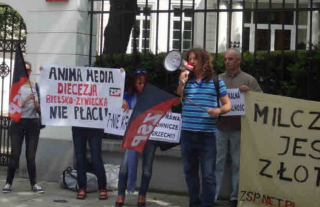 ZSP has been protesting at Anima Media and representative offices of the church over the practices of the media firm. The Media firm hired our colleague through the unemployment office and then offered her a contract. However, it decided not to make any Social Security payments. Salary payments also started to come late or not at all. The company was run a priest who previously had been accused of syphoning money from the John Paul ll Museum to this business. The business partner of the publishing house and film studio is the Bielsko-Zywiec Diocese.
After protests at Anima Media, the union went to the Diocese where they were deemed correct and promised that the payments would be regulated. However, the representative of the Diocese did not keep his word.
The union has made a number of actions in this case. First, it has set up an online protest form and has been informing of the situation. Besides the aforementioned protests, there have been some banners and posters hung on or around churches and there have been a couple of actions at church representative offices. Most recently, a banner was hung and leaflets distributed at the World Youth Day events in Krakow.
We point out that the church runs a number of businesses and employs many people from outside. There are also a number of businesses which earn on providing goods and services to this entity. While the church is ever busy moralizing to us, we find it highly immoral that people connected with it would cheat on Social Security payments, leaving a worker without health insurance and with a break on payments counted towards retirement.
Since the last meeting in Bielsko-Biała, representatives of the church have not opened their doors to speak to the worker or to supporting protesters.
Send a protest:
http://diecezja.zsp.net.pl/anima-media-thou-shall-not-cheat-workers/