Pracujesz na umowie śmieciowej? Możemy pomóc!
Hospital Cleaners Stop Work – Boss Promises to Meet Demands
Anonim, wt., 04/11/2014 - 21:31
Image: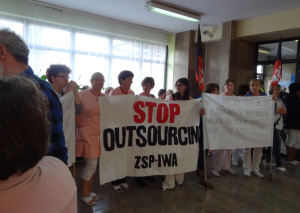 On November 3, cleaners and meal servers from Belchatow Hospital refused to work in response to a number of serious issues at the hospital. The first issue was that around 30 people lost their job. The level of employment at the hospital was cut drastically, forcing many workers to take extra shifts and work much more intensively. Members of the ZSP union at the hospital decided to take action.
The main demand was that these people be reinstated in their jobs and employment be raised. Last year around 170 people were employed. The cleaning and food service work is provided by an outside company and this company has changed 3 times in the past year. Each time more and more people lose their jobs or get put on worse contracts.
The workers demanded a meeting with the boss and he arrived from Warsaw to try to get them back to work. Instead hours of negotiations took place. The hospital would have been evacuated if no agreement was reached. In the end, the boss agreed to have 160 workers. The workers demanded that their colleagues be reinstated and that there will be no firings related to the action.
There were also a number of violations of health and safety regulations and a lack of information about pay, social security payments, etc. The boss promised that these would also be taken care of.
130 workers took part in the action. This includes all the cleaners and food servers and part of the workers who had just lost their jobs.
The workers are still on alert, waiting to see if all the agreements will be fulfilled. The other question is whether this company will remain at the hospital for the next two years or whether a new company will come.
Most of the workers used to be employed directly by the hospital. However all around Poland, this low-paid but stable work is being sent to private companies, which usually leads to much more precarious and badly-paid working conditions. Now at the hospital there even are some people on sub-minimum wages, earning 1.1 euro an hour, less than half the minimum wage. This is because they are given trash contracts which unfortunately in Poland does not guarantee any minimum wage. The problems in the hospital are likely to continue has long as this model of employment is used. ZSP continues to demand that the staff be rehired directly by the hospital on normal working contracts.