Pracujesz na umowie śmieciowej? Możemy pomóc!
Hospital Workers Take Action to Regain their Jobs and their Dignity
Anonim, czw., 12/06/2014 - 05:18
Image: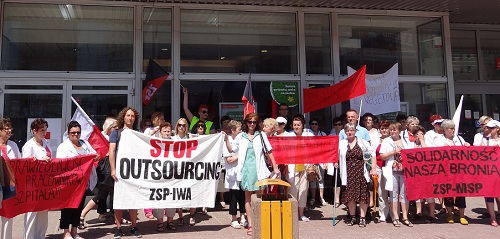 At the end of April, 60 women suddenly found themselves unemployed at the hospital in Belchatow. Since then, a large group of them have been fighting to get their jobs back.
The women had already been outsourced from the hospital and had been working there through a company called Cooperative for the Disabled "Naprzod". This company is no cooperative in the normal sense, but a firm which exploits disabled people, mostly women, across Poland. The contractor at the hospital was changed to another firm called "Dozorbud" and "Naprzod" claimed that the workers had been transferred to the new company. But Dozorbud didn't take most of them to work, instead looking for new hires with no qualifications or experience. Presumably also without any work contracts and on subminimum wages.
Since then, the women have been sitting in at the hospital, demanding their jobs back.
They decided to organize and fight with ZSP. Other unions, including those at the hospital (!), have ignored the plight of the women simply because this is a tough case in this country where anti-worker tendencies prevail.
On June 9, direct actions were held in Lodz where the offices of the Voivodship (which is responsible for the hospital), Naprzod and Dozorbud are located. At the Voivodship, people went in to occupy the offices of the Marshall, demanding a meeting and action. The Vice Marshall met and a few things were established. There will be a new public tender. Dozorbud is out. Although eventually we would like to see the direct employment of the workers by the hospital, we demand that if there is a new contractor, that firm should take all the workers and that this should be a condition of the public tender. Negotiations with will be held in Belchatow on Monday.
Satisfied that some steps were taken towards a possible solution to the problem, the workers left the building to proceed towards the contractors. Only as it turned out, there were no offices of Dozorbud at its business address or anywhere else for that matter. This is another problem that many workers in Poland face who work through such companies that only exist to take money for a few contracts and then disappear from sight.
At the offices of Naprzod, we demanded that the company talk and the director came out. After a few seconds though, he decided to run to the parking lot, presumably to attempt to escape. However he was surrounded and confronted. He insists that the workers are no longer "his" and that they were transferred. Due to the fact that they were supposedly "transferred", their contracts were never terminated, and, although they are unemployed, since they have no termination or work certificate from that employer, they cannot get unemployment benefits and are not insured.
The workers demanded they be paid since they never were fired by the company.
After the action, we learned that Naprzod is a notorious firm that has been fucking over workers in a number of hospitals around Poland. In some cases they were not paying workers on time and in some cases they were paying subminimum wages. The actions against this company will have to continue and we demand that hospitals stop awarding them public tenders and be aware of future companies which might be owned by the same people and which will try to do the same thing under a different business name.
Send a protest here to support the struggle: soli.zsp.net.pl