Pracujesz na umowie śmieciowej? Możemy pomóc!
Hostel 24 - Workers Take Direct Action against Wage Theft
Anonim, pt., 10/01/2020 - 17:48
Image: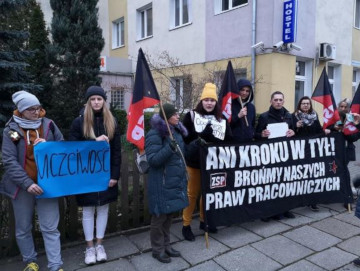 Since the beginning of December, ZSP has been involved in a conflict with Hostel 24 in Bydgoszcz. A few dozen workers were cheated and they have organized three protests already: two at the hostel and one in front of the owner's house. The union will keep fighting, not only for the money, but to stop the employer from cheating anybody else.
As it turns out, many people who worked in Hostel 24 were not paid and we can see that this has been going on for at least 5 years. We do not know the whole extent of it, but at least 30 former workers have come forward and contacted the union. Currently, anybody who was working there but not was not paid has quit but is fighting for payment and to let other potential victims become aware of the modus operandi of this "business".
The Hostel employed people through a few different companies. Basically, a couple of people who have connected businesses have been muddling the waters of legal responsibility by hiring through one company, then another - operating one business, then another. When the workers say Hostel 24 owes them money, the sleazy lawyer for the company says that the Hostel doesn't owe money, because it is only a name, not a legal entity - bla bla. When a lot of workers got court decisions that they were owed money, the owners pretended not to have money, be bankrupt, changed some legalities, etc. so the workers could not manage to get money, even after court. In the meanwhile, the Hostel was able to always find more and more people who didn't know about the problems, for example, Ukrainian students who are recruited through the university's career office. Hopefully now this situation will change and people will understand that they should not work there.
The problems the workers have been facing show that the legal system in Poland is broken and does not protect them. They decided to organize and take action to force the bosses to pay. So far it turns out that they feel very confident in their ability to cheat people and get away with it. Neighbours of the boss claim that he has been up to this for a long time and has a long history of abuse, even in his own family. The workers, it turns out, are not dealing with a normal person but a type of sociopath, which makes the matter more challenging but more necessary.
Another protest is scheduled for the weekend. In the meanwhile, the Hostel has published threats on its web page, claiming all sorts of bullshit, denying that it owes any money, etc. etc. As it that scares anybody!
We are disgusted with the actions of these people and this exploitation will have to stop immediately!
Keep fighting and never let the boss intimidate you!