Pracujesz na umowie śmieciowej? Możemy pomóc!
International Days of Action and Solidarity for Post Office Workers
Anonim, wt., 20/03/2018 - 18:17
Image: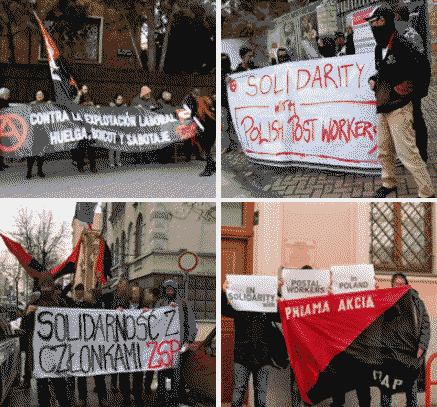 In response to the situation at the Polish Post Office, ZSP called for international solidarity actions to be held at Polish Embassies and Consulates. This is a direct response to another dismissal of our union activist, this time in Wroclaw. Earlier 2 people were fired for their roles in organizing protests. The Post Office has also been trying to bring serious but completely fictious criminal charges against another worker, who doesn't even work in the Post Office, but was involved in the organization of the workers' protests.
The support was good from the organizations of the International Workers Association and other friends. There were protests and leafleting in a dozen international cities - Bratislava, Valencia, Madrid, Manchester, London, Edinburgh, Belgrade, Cologne, Oslo, Jakarta, Melbourne, Canberra - and of course in Poland. Faxes and emails were also sent from the USA, Austria and Lithuania. (A few photos are here. More are on our social media.)
We thank everybody for the support. We'd like to point out that, due to the large protests last year, some working conditions were improved and everybody got a raise. The Post Office however has been doing everything it can be make sure that the unions are not recognized and people who they perceive as the main organizers are gone, harrassed or neutralized.