Pracujesz na umowie śmieciowej? Możemy pomóc!
International Solidarity with Polish Workers!
Anonim, wt., 17/09/2013 - 17:29
Image: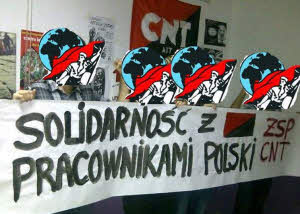 On September 11-14 there were different solidarity actions with Polish workers which took place in different countries. There were actions at embassies and consulates in Spain, Holland, Slovakia and two cities in Australia. Other actions also took place in Spain, where banners were hung, in France, where fliers were handed out during a strike about the situation in Poland and there was an action in a place Polish people work and in Norway. The actions were organized by Priama Akcia in Slovakia, CNT-AIT in Spain and France, ASF from Australia, NSF from Norway and ASB from Holland. Thank you all for the signs of support from abroad!