Pracujesz na umowie śmieciowej? Możemy pomóc!
IWA Sections Celebrate May Day and Days of Action
Anonim, pon., 06/05/2013 - 19:07
Image: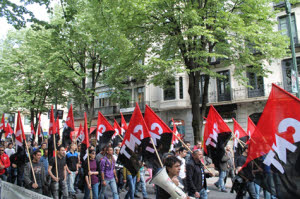 This year IWA Days of Action coincided with May Day. On May 1 and the days immediately preceding it, various actions were held by IWA sections around the globe. The following are a few of the reported actions.
Argentina
Members of FORA held May Day rallies in a few cities such as Buenos Aires, Neuquen, Rosario and in the Andes region. Members of FORA called on workers to create free unions which will not be part of any compromises and reminded of the tradition of the organization.
Brazil
Activists of COB-FORGS organized a May Day action in Porto Alegre. They demonstrated, handed out leaflets, had a rally with speakers and played music. COB also organized a rally in Araxa, calling for the reduction of the working week to 30 hours without any reduction in pay and for workers' organization outside of the collaborationist unions. After the rally they demonstrated through the city and then had a concert.
Germany
In Dresden, the local FAU marched with the Libertarian Network (Fda, antifascists and others) in a libertarian May Day. It stopped at many places along the march, giving speeches and paid special attention to working conditions in restaurants, an area around which they are origanizing. In Bonn, members of FAU also participated in a libertarian May Day. In Berlin, members of FAU marched in a blok in the mainstream union demo. FAU members also participated in libertarian or anticapitalist marches in places such as Stuttgart, Erfurt, Bielefield and Hannover. In Koln activists from FAU had a literature stand. In some other cities, members of FAU could also be seen in mainstream union demos. In Frankfurt some comrades took part in the blockade of a neo-nazi march in that city.
Italy
USI-AIT organized and tool part demonstrations in a few cities in Italy. In Trieste, members of USI took part in May Day with members of other libertarian organizations, from the area and from Slovenia. In Parma, there was a demonstration of base unions organized by USI and CUB. In Florence, workers of the Carregi hospital, where USI has an active union, organized their own May Day event, with a rally, picnic and concert. Other members of USI participated in the various libertarian May Days held around Italy.
Norway
The NSF made propaganda actions between April 29-May 1, handing out leaflets, mainly in the center of Oslo. The leaflet called "International Solidarity against social dumping" was mostly about the "the race to the bottom" in the aviation sector, but not only.  It spoke about the local situation of SAS and how the company threatened the workers and convinced the unions to accept cuts and dismissals and the situation of Norweigan airlines, which threaten to move to Ireland or another country if the workers don't want lower salaries. Other situations, like that of the Iberia workers was mentioned the struggles of the CNT in that airline and of the situation of Alstom workers in Zamora. On May Day, they also went to the streets with a May Day leaflet.
Poland
In Poland there were several actions during the action days.
From 27-30 of April, there were international solidarity actions for FIAT workers held in Poland and Serbia. This was important because workers are threatened with job relocation as a way to control their demands and FIAT moved 1400 jobs to Serbia, where the labor is cheaper and they will receive subsidies. Activists from ZSP and ASI coordinated actions at FIAT factories in Tychy, Bielsko-Biala, Kragujevac and and a car dealership in Belgrade, calling for international solidarity and action in face of the measure of the capitalists.
On April 28, there was a protest in Warsaw against plans to evict people and send them to live in containers in the middle of nowhere. The protest was met by a counterprotest organized by employees of the Bemowo City Hall. On April 29, the Education Workers Union in Warsaw protested against new plans to cut the education budget which would mean the elimination of some classes for handicapped children, eliminating the maximum number of children in classes and cutting jobs and working hours, especially for school caretakers and administrative staff.
On May Day, members of ZSP in Wroclaw took part in a May Day demonstration in their city, forming an anarchist blok with people from CRK social center and the Anarchist Federation. Before the demo, they leafletted fast food establishments and throughout the day distributed leaflets and the ZSP newspaper.
Portugal
Members of AIT-SP from Lisbon took part in an anarchist May Day in Setubal. In 2011 and 2012, the demos in this town were repressed by the police. As they passed through the working class area where they were attacked by police in 2011, they chanted that they are back there, without fear, without the law. People applauded and showed that they did not forget what had happened. In Porto the comrades organized a libertarian memorial tour, then they set up an exhibition stand and a literature table and sang libertarian songs. There was also a street theater performance against the theft carried out by the government and bosses.
Russia
In Russia, members of KRAS participated in an anarchist May Day. The demonstration had many anarchist and social slogans and expressed support for striking medical workers in Izhevsk, calling on workers to organize in free unions and fight against capitalism's class war from above. They distribued copies of "Direct Action" dedicated to the struggle against social cuts.
Serbia
Members of ASI participated in solidarity actions with FIAT workers in Kragujevac and Belgrade. A video greeting with messages of solidarity was filmed and shown to Polish workers.
Spain
In Spain, the CNT organized their own demonstrations or participated in demonstrations in cities and towns across the country. Thousands of people took part in the various demonstrations. As usual, big demonstrations were held in Madrid and Barcelona. In the Basque region, the CNT demonstrated in Bilbao, Donostia, Iruñea and Gasteiz. In these cities, the union will participate in a general strike on May 30, but the union stressed that it needs to show that people are ready to do more than just have a 24-hour strike. In Valencia the CNT participated in an anti-capitalist blok, in Cordoba and Sevilla in alternative union demonstrations. In L'Hospitalet, Teruel, Compostela and some other towns, CNT participated in a rally with other organizations.
The CNT of Almeria and Adra, Salamanca, Granada, Pilar de la Horadada, Cadiz, Extremadura, Valladolid, Toledo, Tarragona, Olot, Palencia, Vigo, Lugo, Leon and Malaga, among others organized their own demonstrations, rallies, meals, discussions, concerts and other events. The different actions were so numerous, it is hard to mention or describe them all.
In Valladolid, the demonstration was not without incident as the police started to harrass people and tried to arrest two women. Then, when the crowd reacted, the police attacked. The CNT of Valladolid denounced this incident.
UK
Manchester SolFed had an action against Poundland, which uses Workfare, as part of their continuing protests against the unpaid labor scheme. It was held on May Day and was part of IWA days of action against Austerity, Exploitation and Oppression. Members of the local Anarchist Federation also took part. The activists distributed a few hundred leaflets at a shopping center with a Poundland shop, despite being harrassed by security guards.
In UK, most May Day parades were moved to the weekend. In London, some members of SolFed joined the main union event in Trafalgar Sq.
Actions by Friends and other Organizations
Members of the Anarchosyndicalist Federation in Melbourne took part in anarchist May Day celebrations. The Friends of the IWA from the Grupo Germinal in Chile demonstrated on May Day in Talcahuano and in Santiago de Chile. A few other organizations were invited to participate in the Days of Action. We received reports that the Anarchosyndicalist Initiative Romania made a May Day event, handing out leaflets in Constanta, Timisoara and Bucharest and hanging a banner on a bridge in Constanta. Also comrades from MASA in Croatia took part in an anti-capitalist blok in a May Day demonstration in Zagreb and in Rijeka they organized a demonstration and picnic.