Pracujesz na umowie śmieciowej? Możemy pomóc!
MarcPol Workers Receive some Money - but the Struggle Isn't Over Yet!
Anonim, sob., 19/11/2016 - 10:33
Image: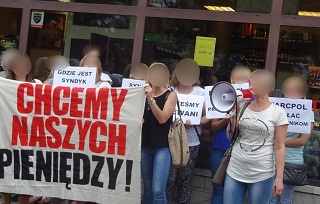 We are happy to inform that workers from MarcPol Supermarkets who blockaded the supermarket in downtown Warsaw in August have finally received some money. The supermarket chain, which claimed it was bankrupt and hadn't paid workers, was still doing business and selling off assets to other companies with ties to it. Hundreds of workers were left without salaries for a couple of months.
However the workers have not received all the money they were owed and haven't received any compensation for vacation equivalent. Therefore the conflict remains against the former owner, who still runs active business interests.
There also remains a huge problem of workers whose companies go into bankruptcy as a business strategy. Often they are selling and transferring assets and stop paying workers for months before shutting down. This activity, which is literally criminal, usually goes with no consequences for the owners, which has encouraged the spread of these practices. After MarcPol, the Alma chain has also left workers high and dry and there is news that other chains may follow.
Supermarket Workers in ZSP have successfully fought against unpaid overtime and other violations in Dino supermarkets. Starting next year, the union will campaign against the practice of shady bankruptcies in this sector and others.