Pracujesz na umowie śmieciowej? Możemy pomóc!
May Day 2020
Admin, sob., 02/05/2020 - 10:14
Image: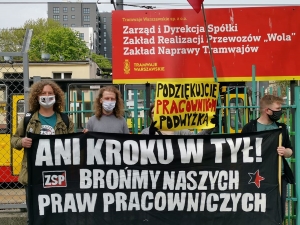 Earlier this year we had thought how to observe May Day but all plans were changed due to the situation with Coronavirus. Currently in Poland, demonstrations and even all public assembly of more than 2 people (2 meters apart) is banned – but that hasn't stopped numerous protests from happening, Nor has it stopped people who organize actions in public, such as free food distribution or the distribution of masks. In Warsaw, after recent protests some of us engaged in, we are aware that we are observed by the police who would mobilize against us if we tried to go out in any larger group. On the other hand, public opinion is quite divided, with some considering that gathering any mass of people would be irresponsible. We decided that the most important thing is that we need to be agitated and mobilizing people all the time and to find ways to respond to different worker conflicts which are occuring around us. With this in mind, over the past month we have been trying to respond to a few situations were workers have been fired, usually without notice and sometimes not getting paid.
Already one restaurant chain is panicked and has promised to make payments although we will believe it when we see it. A lot of the action we are taking now is virtual because the workplaces are actually closed. When the lockdown is over, it is clear that places like that restaurant chain or a cinema chain which also fired people or changed their contracts are very good places to take direct action. There is still a a lot to do and a lot we can do to prepare responses and upcoming campaigns. ZSP has also set up a solidarity fund for its members that have lost their jobs.
Related to May Day, we noticed how many of our members were actually working – especially everybody in health care. Therefore, some agitation there took place. Also comrades from different cities have been going out with posters with our demands or banners. In Warsaw, some friends coincidentally appeared at the same place at nearly the same time, where some friends work and we know of some problems – in particular, at the tram depot or the hospital for infectuous diseases. In relation to the first, tram drivers are threatened with pay cuts all over Poland, despite the fact that they have been working all the time. We thought it was important to show support. We also stopped by the office of Solidarity union – just to remind people that there are unions that will fight and do more than organizes pilgrammages and promote the cult of John Paul 2. As far as the health services are concerned, some of our members work there and some have a very difficult time. The government has ordered nurses to be on call virtually all the time and the hospitals can even order them to basically live in the hospitals.
All in all, we realize that public agitation is necessary to build the mood of resistance which has been so undermined by the lockdown regime, however the most important thing is to organize and prepare. This has not changed – this need has always been there.