Pracujesz na umowie śmieciowej? Możemy pomóc!
More Exploitation on Public Money: Cleaners at the Refugee Center in Debak want normal Working Conditions.
Anonim, pon., 26/11/2018 - 21:44
Image: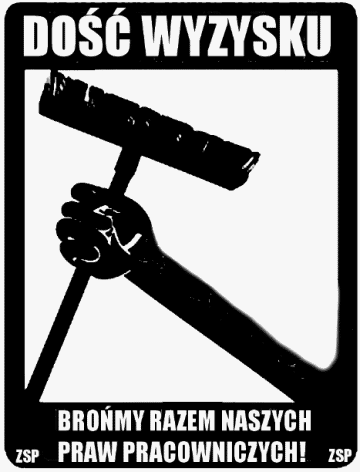 For several years already, ZSP has been fighting cases related to outsourcing, especially in public institutions. Often conditions worsen or workers are denied certain fundamental rights when their work is outsourced. A new group of workers who decided to try and correct their working conditions are the cleaners at the Debak Refugee Center in Podkowa Lesna, near Warsaw.
A firm oddly called Sadar Sport Management won the public tender for cleaning services. This company is present in other places, such as in the commuter train stations in Grodzisk Mazowiecki or in the center of Warsaw, where a couple of workers are without any contracts or benefits whatsoever. They also won a tender recently to clean the court in Grodzisk.
Although the company advertised that they were hiring people on work contracts, the cleaners have either some contract for services, contracts for reduced working hours (although they work 40 hours) or no contract at all. In the case of the first, there is no protection of employment as under the Labour Code, and different benefits are denied. In the case of the second, less money is paid into the retirement fund, the firm is only obliged to provide a fraction of the paid vacation required by the law and, in case of illness, the worker is entitled to much lower sick leave payments. In the case of being illegally employed with no contract, the workers are denied basically all of their rights.
With all this, we can say for certain that the workers are being cheated and exploited by the employer and we should not be paying for this with public money.
ZSP has appealed to the Office for Foreigners, the institution which runs the Refugee Center, to stop using outsourced services and hire the 5 workers directly on normal work contracts.
Tomorrow the workers will confront the bosses of the cleaning company about the serious issues involving their employment. Any harrassment of the workers will not be tolerated by the union, which plans on holding informational events, pickets and other actions in this case.
Sadar needs to clean up their act and pay up what belongs to the workers.
ZSP Multibranch Union, Warsaw