Pracujesz na umowie śmieciowej? Możemy pomóc!
OTTO and Temporales Screw Spanish Workers
Anonim, sob., 19/11/2016 - 10:51
Image: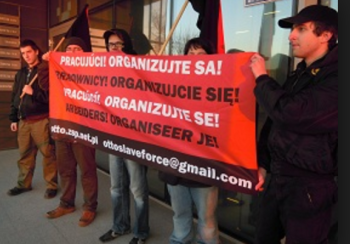 Recently, ZSP, our comrades in Holland from Vrije Bond and comrades from Priama akcia in Slovakia are receiving more and more information about new problems with the work agency OTTO Workforce. Often this has to do with not being provided with enough work (or work at all) after arriving in Holland.
These problems no longer concern primarily workers from Poland, Czech Republic and Slovakia, but also now from Spain, as the agency is also targetted unemployed and desperate workers from that country. Workers from Spain, who were recruited through "Temporales" - a fly-by-night agency in Madrid - wound up employed in Holland by OTTO. Although they were promised a certain number of hours per week and assumed they would be earning something, the actual contracts provided no guaranteed hours. However, they oblige workers to pay for lodging and health insurance - regardless of whether or not they are given any work.
Some workers decided to take action after falling into debt with OTTO. We are calling on OTTO to cancel the debts of the workers who were promised work, but not given it by the agency. Some of these people literally had no money for food and had to borrow money to return home. We are also calling on the agency not to charge workers for housing in such circumstances that they fail to provide work and to incorporate guaranteed hours into their contracts.
The unions which have previously taken action against exploitation at OTTO, plus comrades from CNT-AIT in Spain, will soon start an international campaign aimed at warning workers and changing the practices of the agency.