Pracujesz na umowie śmieciowej? Możemy pomóc!
Picket at Santander Bank
Anonim, nie., 14/09/2014 - 08:35
Image: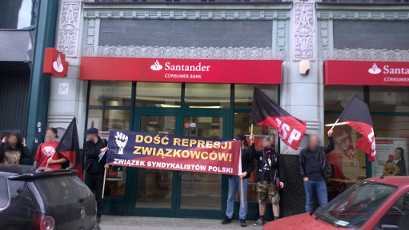 As part of the international day of action against Santander Bank, ISBAN and Panel sistemas, a picket was held in front of a Santander Bank in Wroclaw, in solidarity with the dismissed activist from the CNT union. The members of ZSP Wroclaw blocked the entrance to the bank in the center of the city for a while. A protest letter was handed in to a representative of the bank.
The IWA (which the ZSP and CNT belong to) has been organizing an international protest campaign in this bank. Besides the repression of the union member, there are different problems with the working conditions. For example, many workers are outsourced to a company owned by Santander but, since they are outsourced, they have less job security. They also have lower pay, forced overtime, etc. About 10,000 workers are in this situation.
Solidarity actions have taken place in many places around the world, including Spain, France, Portugal, Norway, Great Britian, Germany, Brazil, Argentina, Uruguay, Mexico, Chile and the USA. Protest letters also have come from countries without the presence of these companies, like Slovakia or Russia.