Pracujesz na umowie śmieciowej? Możemy pomóc!
Polomarket Protests take Center Stage during National Day of Protests
Anonim, sob., 06/05/2017 - 11:16
Image: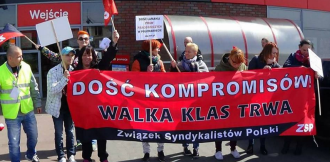 May 2 was advertised as a national day of protest of supermarket workers. With much noise, mainstream unions, in particular Solidarity, announced that strikes and protests would happen in supermarkets around Poland. Some other unions announced that they would also protest. ZSP, which is currently fighting for improved conditions and compensation for workers in PoloMarket, decided to also protest on this day.
Unfortunately, despite the announced day of protest, supermarkets were open for business as usual, with only a few slow downs at some cash registers. Instead of protests in front of the markets, only a few union professionals appeared to speak to the press about the "protests". Due to this fact, some media outlets decided to report on the Polomarket protests, where they could actually speak to working people.
The union protested at three locations in Bydgoszcz, demanding a resolution to the conflict and satisfaction of the workers' claims. Hundreds of leaflets were handed out during the day and some clients expressed support of the protesters. Some decided to do their shopping elsewhere.
More protests are already scheduled in May in a few cities throughout Poland. The union has decided to organize these on the national level, due to the fact that the market has failed to negotiate with workers and continue to press on with a criminal case against one of our activists. The chain of supermarkets is being protested due to various violations of workers rights such as irregularities concerning overtime and lack of breaks in some departments. Another situation where a worker was unfairly dismissed has already been settled by the company.