Pracujesz na umowie śmieciowej? Możemy pomóc!
Post Office Workers Make Demands
Anonim, sob., 19/11/2016 - 12:34
Image: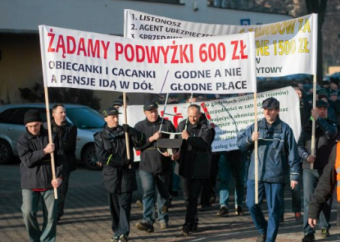 Over the last few months, our comrades from ZSP working in the Post Office have been coordinating with other workers around Poland, outside the mainstream unions. A number of protests have taken place in different cities in Poland which have included pickets, sick-in strike actions, go-slows, banner drops and direct action on the job.
The MailCarrier.pl Network and in particular, the organizations in Czestochowa, Poznan and Gdansk have sent demands again to the Post Office. Among the demands are wage increases and actions against the practices of staff cuts and creating a "grey area" of workers in the PO. They also demand the dismissal of the Network Director in Warsaw who scandalously tried to repress those who planned protest and strike actions in Warsaw.
The ZSP, which includes postal workers in a few cities, is active in supporting the development of the network and expresses its contempt at the Director who is spying on and threatening workers. Warsaw ZSP is coordinating a response.
More to follow.