Pracujesz na umowie śmieciowej? Możemy pomóc!
Protest at Belchatow Hospital
Anonim, nie., 25/05/2014 - 16:43
Image: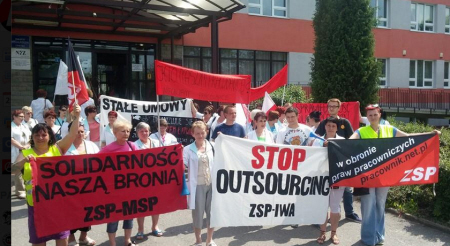 On May 24, workers fighting for their jobs at Belchatow hospital protested in front of their workplace. 60 women have found themselves suddenly without any income after the contractor was changed at the hospital and they were not transferred to the new company.
The women are cleaners and meal servers at the hospital and most have worked there many years. Such workers used to be directly employed by the hospital, but outsourcing has become very popular in the last ten years in Poland. When outsourced, their jobs become much more precarious and on worse working conditions. Although there are laws related to the transfer of employees, companies often ignore them, as was in this case.
The workers were employed through a firm called Naprzod from Krakow which is supposed to be a ¨cooperative¨ for people with disabilities. All of the women working at the hospital have some form of disability, usually minor, that does not interfere with their work at all. Employers get some tax incentives for employing people in this category.
Future actions will take place at this company.
The workers were told they would be transferred to the next contractor but that didn't happen. Naprzod claims it has no responsibility, did not give the workers adequate notice and they found themselves without a job or any compensation. Many of the women are at an age when it is very difficult to find anything else. They are currently without any salary or health insurance and, as these are generally low – paying jobs, they are asking about how they will survive, in fear of not being able to pay the rent, etc. etc.
STOP OUTSOURCING AND THE PRECARIZATION OF LABOR!
CLEANERS AND MEAL SERVERS BACK TO WORK NOW!