Pracujesz na umowie śmieciowej? Możemy pomóc!
Protest at Miau Cafe
Anonim, nie., 22/01/2017 - 20:33
Image: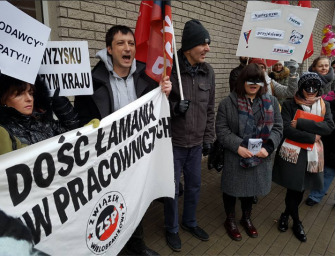 On January 22 we organized a protest at Miau Cafe in Warsaw. Miau Cafe hired staff to work and never gave them work contracts: the women who worked there did not have payments for social security, vacation or sick leave and were made to work overtime. They finally gave notice due to the negligence of the owner to provide legal working conditions. The workers decided that they would like to protest in order to highlight the problems in the hospitality sector, where some of them still work or planned to be employed in the future.
The owner of the cafe, in response to articles about the situation, tried to blame the girls as being "bad workers" and falsely claimed that she had given them contracts. We are calculating how much they are owed for unpaid overtime and lost benefits and demand that these are paid. Protests should continue until the owner regulates what is owed. Moreover, anybody who she employs in the future should have a proper work contract.
The cafe had initially gained a lot of financial support from cat lovers because the cafe has a few cats living there. Exploiting people's love of cats to make more money, the owner reacted to the scandal by posting stories of an epilectic cat and other cat charity actions in order to try to gain sympathy as a saviour of cats. Today however, protestors saw a very angry and violent woman, who tried to grab the microphone from one comrade and whose friends started violent incidents, both at the protest and afterwards, when they tried to ambush a group of people leaving. Luckily nobody got provoked by the owner or her friends, who gave to support the person who denied workers their basic rights in order to put more money in her pocket.
People who came to support the protest said that they would be back and will keep up the protest until the demands are met.