Pracujesz na umowie śmieciowej? Możemy pomóc!
Protests in Dopiewo against Firings and Violations of Workers' Rights
Anonim, nie., 11/05/2014 - 19:09
Image: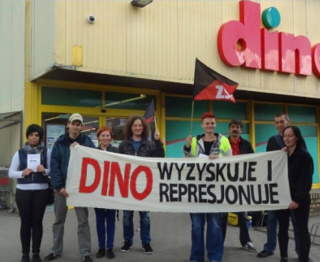 On May 10, protests were held at two Dino supermarkets in Dopiewo, where workers are fighting against dismissals and other violations of their rights.
Three local employees decided to take action after a number of incidents. In the end, two lost their jobs. A third wants to quit for various reasons. Dino supermarkets have been violating various rights of workers, including forcing them to work overtime while trying not to pay for that, breaking health and safety regulations, etc. etc. Dozens of violations have been confirmed by the State Labour Inspectorate and are reported by workers from all over Poland. Some of the workers are now fighting back and trying to collect money owed to them.
Besides these problems, there have been a number of objectionable dismissals. A number of unionists were fired at the end of last year and in January, including for things like criticizing the market on Facebook. Then, after labour inspections found many violations in Dino markets, some workers were made scapegoats by the management, who blamed them for the problems. (Of course the orders always come from above.) Other people (who perhaps the management fear – for no real reason was given for their dismissal) have lost jobs. In Dopiewo, one woman's contract was not extended and Dino gave absolutely no notice while another was forced to sign a resignation or face a disciplinary dismissal.
We do not agree with this type of treatment of workers and with any other types of reprisals taken by the bosses.
During the pickets, we demanded an end to the violations against the workers, payment of overtime owed and reinstatement of the workers who want their jobs back or compensation for being terminated with no notice. (Not every worker wants to go back to that employer.)
The workers said they would pursue further actions against the supermarket.
In the meanwhile, workers from other supermarkets have been contacting us, expressing interest in protesting in their cities and joining in to take legal action against the company.
After Dino was controlled by the Labour Inspectorate, we hear that it has changed its practices in some places, recording all overtime and paying. However many employees are owed money from before. Dino knows that most employees are not able to evidence this working time themselves so probably felt quite secure in doing this on a large scale. ZSP has been informing workers on how they can evidence their working time and claim what is owed. It has also decided to organize a tour of Poland to meet with workers from supermarkets.