Pracujesz na umowie śmieciowej? Możemy pomóc!
Protests at PoloMarket in Belchatow
Anonim, sob., 25/11/2017 - 18:56
Image: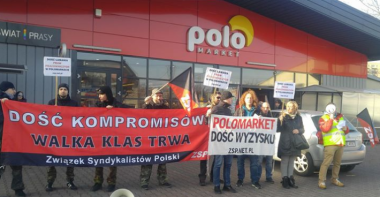 For several months, ZSP has been conducting a campaign for the improvement of working conditions at PoloMarket. Dozens of protests have taken place throughout Poland, highlighting the various problems workers faced there: unpaid overtime, usually related to non-documentation or falsification of working hours; forced overtime work for people with disabilities; problems for workers who want to take holidays; lack of breaks in some shops; harrassment and various health and safety problems. There was also an unfair dismissal. (The worker involved received compensation after an action at Polo's corporate headquarters.) So far several workers have received compensation from the market, but many others are still struggling to get what they are owed. ZSP would like to see a change to the illegal and exploitative practices at the market.
During recent protests in Aleksandrow Lodzki, a town where the Labour Inspectorate confirmed various problems, workers from Belchatow came and told us about the issues in their city, saying they would also like to take action. The problems were similar to those in other cities. There was also the issue of falsified health and safety training where workers were expected to sign that they had training which never actually took place.
On November 25, protests took place in front of the two Polomarkets in Belchatow. Workers told about their experiences in the shop and about the problems confirmed by various inspections. Many people expressed their support of the protest. The union is encouraging workers from Polo to organize themselves and not to be cheated. It plans to hold more protests, especially before the holidays, when a lot of people go shopping.
Several workers have already received compensation from the supermarket chain and some court cases are in process, including a case Polo brought against a former worker in a failed attempt to intimidate people. Despite pressure put on supervisors and low-level management to testify in court against workers, there is a lot of evidence on the workers' side, and in a few incidents, the supervisors were cornered and had to tell the truth. We have heard that a couple of these people have now lost their jobs themselves.