Pracujesz na umowie śmieciowej? Możemy pomóc!
Protests at Polomarket Continue as Chain Represses and Renegs on Promises to Negotiate
Anonim, sob., 06/05/2017 - 09:07
Image: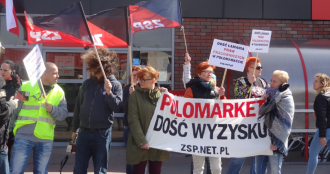 The situation with Polomarket is growing more tense as the market continues attempts to criminalize workers and has not negotiated with them as promised. Following a visit to their headquarters and a settlement with an unfairly dismissed worker, the chain had promised to speak to other workers about their demands. Unfortunately, these assurances turned out to be hollow. Instead of talking and trying to resolve the conflict, the market continues to send spies after workers, in a vain attempt to harrass and intimidate those protesting. What's more is that they are proceeding with a criminal case against one of the former workers, acting as if they were the victims in the whole matter.
At the end of April, a protest took part in Gdansk at a local Polomarket. At the beginning of May, three supermarkets were protested in Bydgoszcz. Actions are planned to continue as long as the chain maintains their current behaviour.