Pracujesz na umowie śmieciowej? Możemy pomóc!
Ryanair Don't Care campaign picket of Liverpool John Lennon Airport
Anonim, pon., 19/03/2012 - 06:00
Image: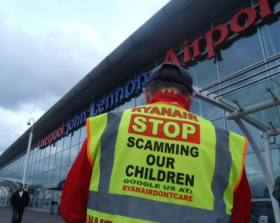 To round off our week of action against Ryanair, Liverpool Solidarity Federation and Ryanair Don't Care campaigner John Foley today picketed Liverpool John Lennon Airport. Though not quite the spectacle that the previous day had been, it was succesful in getting across the key message: end the Ryanair recruitment scam!
We pitched up outside Departures at around twelve o'clock, with banners and signs, and began distributing leaflets to people as they came and went from the airport. This quickly attracted the attention of the police, though this time they felt no need to bring in horses and we were allowed to carry on our picket without interruption.
Those who took our leaflets were generally receptive, with more than a few asking for more information and expressing their sympathy with the campaign. Those we gave flyers to included Ryanair cabin crew, who informed us that our presence had become the subject of much talk and people were waiting for us to attempt to enter the airport. We were also joined for a few minutes by Spanish tourists who, seeing our flags, asked if we were anarchists and revealed themselves to be members of Solfed's Spanish sister section the CNT!
The action finished with John and several Solfed comrades entering the airport in order to display the campaign banners by the Ryanair ticket office.
At the end of the day, John said, "thanks to all who took part in the week of action. I am proud of the support and hard work from all of you." That marks the end of this week of action in Liverpool, but the campaign against Ryanair will continue as long as the recruitment scam does!
More pictures from the week of action can be seen on the Mersey Solfed Facebook page.