Pracujesz na umowie śmieciowej? Możemy pomóc!
San Raffale will not Fire Workers - A Victory (in part) for the Strike!
Anonim, śr., 15/05/2013 - 13:52
Image: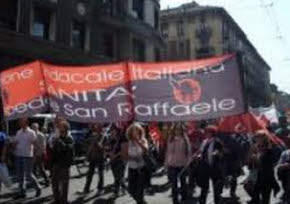 On May 8, workers from the USI-AIT and USB unions at San Raffaele hospital in Milan went on strike. (See article here.) USI has informed that two days later, at 7AM, after negotiations, an agreement was signed whereby the hospital agrees not to fire the 244 workers. The 66 workers who received their notice will not be fired either.
Unfortunately, the hospital still wants to lower salaries by 9% and this was not overturned. So our comrades from USI-AIT do not consider it a victory yet. But it is in fact something that the workers won thanks to their actions and thanks to the determination of the unions who fought, unlike the mainstream ones who gave in.
The agreement still has to be ratified at an assembly of workers tomorrow, the 16th of May.