Pracujesz na umowie śmieciowej? Możemy pomóc!
Solidarity Action, Conflict with EasyJet
Anonim, nie., 31/07/2016 - 16:55
Image: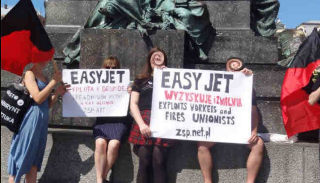 On July 10 there was an action in Krakow in solidarity with our comrade V. who was fired from EasyJet in Spain. Several people from different unions were fired at the Malaga airport, including our comrade from the CNT Valencia. EasyJet is a very profitable airline but saves on workers' salaries and benefits. The firm has been faced with strikes in several countries, including Spain where workers went on strike following the union busting repression.
Leaflets were handed out in the train to the airport in Krakow and a protest was held in the main square of the city. ZSP drew attention to the situation of EasyJet workers and in general to working conditions in different airlines.