Pracujesz na umowie śmieciowej? Możemy pomóc!
State Labour Inspectorate Controls Amazon and Points out Violations
Anonim, nie., 12/07/2015 - 12:36
Image: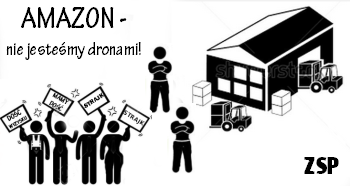 The State Labour Inspectorate has fined Amazon and Adecco work agency for numerous violations at the Bielany Wroclawskie fulfillment center near Wroclaw. However the fines imposed by the Inspectorate are not an effective deterrant – 3 fines of 2000 zloties between the 2 entities, which is less than 1500 euros. Workers need to fight themselves, not through the ineffective intermediaries of the state.
The controls only confirmed what workers have been saying all along: that there are problems with late payments, overtime payments, with sick leave payments and with the company not declaring some accidents at work. There were also problems with payments for equivalents for work clothes. All these are problems which the ZSP has been dealing with since December 2014.
There were also some problems with health and safety, including violations concerning safety instructions and employing people at heights.
As Amazon has started to recruit a few thousand more workers, the ZSP will be stepping up its work in informing new employees about their rights and encouraging them to organize in the union.
We also point out that the control did not include the Manpower agency since Manpower is out of Amazon. However, the corporation has, for whatever reason, decided to re-engage this agency in the new recruitment process. Therefore we will be focusing on Manpower during this time. There are still a couple of outstanding problems with Manpower which we hope to resolve. In the meanwhile, we will encourage their future employees to be aware of potential problems with a new series of articles and brochures.