Pracujesz na umowie śmieciowej? Możemy pomóc!
Strike in Defense of Health Care Workers
Anonim, czw., 09/05/2013 - 11:31
Image: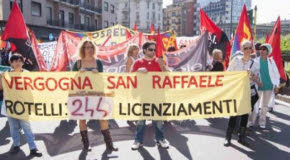 On May 8 there was a 24-hour strike of workers from various hospitals in the Lombard region in Italy. The strike was orginally called by the workers of San Raffaele hospital in Milan organized in USI-AIT and USB unions. Unions from other hospitals, who were in solidarity with these workers, and who have their own claims and concerns, joined the strike. All the workers knew that the same fate of the San Raffaele workers (dismissal) could meet any of them and that they need to fight together. Workers from CUB and COBAS union joined the strike.
The workers of San Raffaele in struggle are fighting against dismissals in the hospital were the management is planning to fire 244 workers. A month ago, it looked like there was a compromise on this, but the hospital just started to fire people and 66 people were given notice. The strikers tried to go into the building of the local authorities but they met with big police force.
The workers at San Raffaele consider the firings as an attack on public health care.