Pracujesz na umowie śmieciowej? Możemy pomóc!
Victory against repression. You cannot silence the workers!
Anonim, sob., 22/09/2018 - 00:53
Image: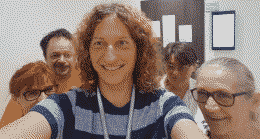 ZSP is very happy to announce that 5 years on after the beginning of a workers' conflict with the Jewish Historical Institute – or, more precisely, with its director – we have won a case brought against our comrade in yet another attempt to intimidate workers in Poland.
The court decision was very happily welcomed by both our union and non-affiliated scholars who had had to endure the actions of the director. It should be noted that the bosses often use lawsuits and criminal cases to try to keep people silent about bad working conditions or to publically denounce anti-union activity in their workplace.
In 2013, some workers at the Jewish Historical Institute, including our friends – world-famous scholars Alina Cala and August Grabski – formed a union at work. This was mostly in response to the actions of the director, who, in our opinion (and also in the opinion of at least one court), harrassed workers, especially in relation to their political views. (The director is a right-wing former parliamentarian, elected as a member of the Civic Platform. In different documents presented as evidence, we can show that he especially disliked anybody with left-wing or union sympathies.) After the formation of the union, six of its members were demoted to work digitalizing the archives. Among those targetted were excellent scholars whose work was thus put on hold.
We did not hesitate to support the workers. As a result, the director also decided to fight against us, bringing a lawsuit in 2014. After 3 years in court, with many workers testifying in our defense, the comrade who was singled out and targetted has won and the director must pay all the court costs. Of course the fact that one person was singled out shows that the director had no idea about what he was dealing with and likely does not understand the concept of solidarity.
Most of all, we would like again to state that we will never cave in to the constant attacks of the bosses against the unions and against workers who dare to stand up to them. Polish law and judiciary practice needs hard change in this area because it has served in the past decade or two as an instrument for the elite to control people and punish dissidence. The bosses need to know that we will not tolerate them as the "masters of justice" anymore and that we can defend ourselves – even without the huge amount of money that they have at their disposal.
We thank everybody who showed their support and say to workers that they don't need to be afraid.