Pracujesz na umowie śmieciowej? Możemy pomóc!
Victory for Cleaners
Anonim, sob., 05/01/2019 - 21:18
Image: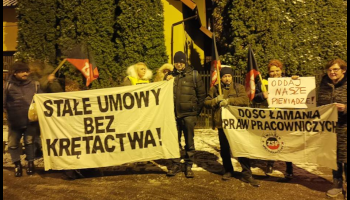 Cleaners at a refugee center near Warsaw have scored a major victory, having received payments for all their demands. The workers were employed at Debak refugee center through a firm called Sadar but not all of them had proper contracts and thus did not receive proper vacation, sick pay or social security payments. In December, the workers, organized in ZSP, decided to take action, confronting the boss and demanding both payment for everything they would have been entitled to under a proper contract and direct employment through the center instead of working through an outside company. At first the company reacted by hiring a lawyer to threaten ZSP and by putting pressure on the workers, but they did not give up. In late December, they decided to hold a picket in front of the company office, which happened to be located in the private residence of one of the owners. During the picket, the workers read out how much money they were owed and posted the demands. The owners then called to set up negotiations for the next day in which they promised to pay everything and informed the workers that they gave up the contract for cleaning the center.
The agreement was that all parties would meet after the holidays and after New Years', the workers were in fact paid everything they were owed. The union is very happy that nobody backed down and the conflict was won through these actions.
ZSP again points out that such abuses are common and calls on public institutions to give up outsourcing jobs which can be done through direct employment. We also point out that the same company has won other public tenders and problems exist in other places they provide cleaning services. Public and private institutions that use such services should pay much more attention to what is going on with the people working there through outside companies.
We are glad that this victory can show other workers that they needn't be afraid to stand up and fight for their rights. So many employers abuse the fact that people are so desperate for work and that the system turns a blind eye on cheating workers. It's time to put an end to this! Time to organize!