Pracujesz na umowie śmieciowej? Możemy pomóc!
Workers Protest at POLOMarkets in Bydgoszcz
Anonim, nie., 19/02/2017 - 15:54
Image: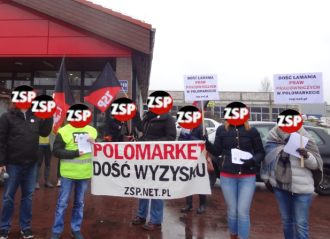 On February 18, a group of current and former employees of POLOMarket protested at three locations in Bydgoszcz. Recently workers in that city organized themselves in order to improve both the working conditions in the POLOMarket chain and, they hope, inspire other workers to organize in their workplaces.
Among the problems the workers wish to address are practices which ZSP has encountered in other supermarkets as well: forced overtime work which is not recorded or paid, making people with disabilities work above the legal limits, forcing people to work without breaks and various health and safety violations, including not providing training on some equipment such as forklifts. Currently the Prosecutor is also checking whether there are fake signatures on some time sheets: workers claim that there were falsified documents. Some other violations relate to health concerns since workers were forced to take expired meat home and grind it up to bring back to sell.
In addition, the workers disagree with how one woman was fired and consider it to be an unfair dismissal.
The former workers have claims against the market, including unpaid overtime and the current workers would like the aforementioned practices to be stopped. As more workers join in, a more complete list of demands will be sent to the market.
POLOMarket has already shown a strong reaction to news of the union and the planned protests. Workers received instructions not to speak to or contact us, which only meant that more people found out about it and started to write to the union. Lawyers for the chain have sent threatening letters to ZSP and managed to get Facebook to remove the protest event. As we understand, journalists were also warned by the market, who falsely claims that the workers' complaints have not been confirmed. Finally, several spies were sent to the protests to film the workers and try to intimidate them.
The workers plan to continue their organizing efforts in the market and new actions will be held in a few weeks.