Pracujesz na umowie śmieciowej? Możemy pomóc!
More Pickets at Zabka Convenience Stores Highlight Systematic Abuse of Workers
Anonim, nie., 19/03/2023 - 21:25
Image: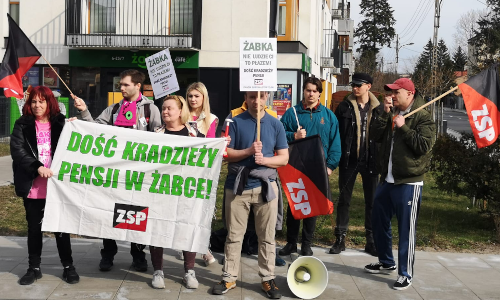 On March 19, ZSP Warsaw union held two pickets at two different Zabka stores. Zabka is the largest chain in Poland with almost 9000 shops run by franchise. It is also present in the Czech Republic and Slovakia and is owned by CVC Capital Partners private equity firm. As the company does not care about the working conditions in its shops, many of the shops employ people without giving them contracts, pay them under the table and routinely steal their wages.
The first picket was a shop on ul. Skrzynieckiego. There, two workers were robbed of their wages. One was employed on a contract, the other was never given a contract at all. The workers calculated what they were owed and we sent this information by email. When we delivered a demand letter in person, the agent tore it up. We understand that she believes that she can get away with wage theft, however her actions just make us more determined to inform people about the situation there and keep fighting for the money owed.
The second picket was in Minsk Mazowiecki, near Warsaw. In this situation, the woman who originally wanted to fight actually received her money the day after we announced the picket. One success. However, a woman we know then contacted us that she had also worked there and had her wages stolen. This is a common situation that the thieving bosses usually have more than 1 victim. We went and demanded the money but instead of paying, the agent locked the store. Later she made a false alarm call to the police saying that we were "attacking her". As we know, the police can protect such thieves but we think this time they were not fooled about what had happened. This is because already many people in Poland know that there are many horrible Zabka agents who rob people's salary.
While this situation continues we will continue to inform the public about what is happening and ask for support of the workers by not patronizing the thieving shops. ZSP has already successfully held numerous actions in and around Warsaw and succeeded in helping more than a dozen people get the money they were owed.