Pracujesz na umowie śmieciowej? Możemy pomóc!
Picket at Zabka Store, Motycka 23
Anonim, nie., 28/05/2023 - 16:13
Image: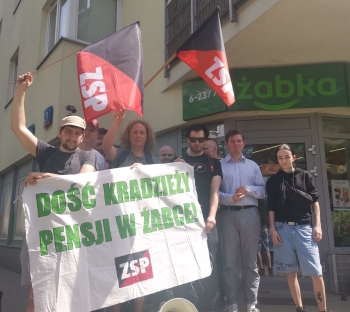 On May 28, ZSP held a picket at another Zabka convenience store, this time at Motycka St. 23 in Warsaw. In this store, they had people working without a contract, for less than the minimum wage. One worker kept asking about a contract and finally quit, but then found out that the owner didn't even want to pay her anything. We wrote a letter to them demanding the salary owed at the legal minimum wage. Of course we don't want to ever hear again of this kind of exploitation at this shop.
Within a couple of days, the owner paid some money to the worker, but not the full amount. We went to the shop to find the owner not the least bit concerned about the crimes he committed or making sure that people who work there are legally employed. We are sending another demand letter and picket and are hoping the full amount be paid. In the meanwhile, we informed local residents about the situation in this shop and encourage them to avoid shopping there as long as this kind of practice exists.
We will keep reporting cases of abuse in this convenience store chain and taking action against wage thieves.