Pracujesz na umowie śmieciowej? Możemy pomóc!
Protests Continue at POLO Market as Chain Declares it Wants to Settle One Case
Anonim, pon., 13/03/2017 - 20:43
Image: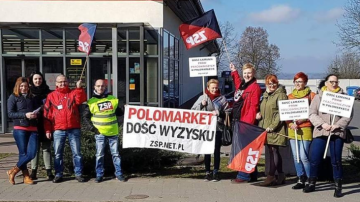 On March 12, protests were held outside of POLO Markets in Unislaw, Osielsko and Bydgoszcz. Workers demand that working hours are properly accounted and paid for, that workers are treated with more respect, without harrassment and that health and safety measures are followed. Former workers also have concrete claims against the supermarket chain, especially for unpaid overtime.
At the beginning of the year, current and former employees of the market organized themselves and composed a list of demands. In February, three pickets were held in Bydgoszcz. The supermarket chain responded badly by trying to intimidate workers, ordering them not to contact ZSP, sending spies to the demonstration to film workers and by bringing a criminal case against one former employee for supposedly slandering the company. At the same time, as we initiated a court case for unfair dismissal of one woman, the company stated they would like to talk to her – but were not exactly eager to talk to the union about all the cases. Members of the union therefore went to the corporate headquarters of the supermarket. After talks there, the supermarket publically declared in press statements that it would like to settle accounts with the dismissed worker and offer appropriate compensation.
We are not sure what the market was thinking, but the union considers that numerous people had their rights violated and that the chain should pay them money owed. We have heard rumors that they were "surprised" that we still protest after their gesture towards only one of the affected workers.
Members of the union will meet this week with the company to settle the first case, but also to discuss the rest of the claims and demands. We see that they are trying to separate everything and use some typical manoeuvres but the conflict is not over until we all cases are treated and changes are made. The workers have stated that they are willing to sit down and talk with the chain, but if the supermarket does not show good will, the protests will continue.