Pracujesz na umowie śmieciowej? Możemy pomóc!
The Protests at Polo Continue
Anonim, sob., 27/01/2018 - 21:45
Image: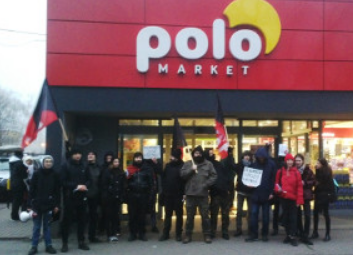 On January 21, a picket was held in front of PoloMarket in Wroclaw. This is the latest in the campaign in defense of workers from the supermarket chain which has lasted for almost one year. 5 workers have already received compensation for unpaid overtime and one for unfair dismissal, but the company still is trying to repress protesters, including with criminal cases. Another 12 workers have cases in court. ZSP has organized a few dozen protests across the county over the past year.
Among the demands of the workers is payment of overtime, no more threats of firing workers and an end of the repressive measures of the firm towards members of the union. One criminal case against a now former employee for supposedly damaging the reputation of the company has been going on for months and the company keeps pressuring the police to bring charges against other members of the union, who are subjected to numerous interrogations.
While Polo has been engaged in repression against union activists and other workers, the pressure has also been on them to clean up their act. There are reports that the situation is improving regarding the evidence of working hours, that workers who were once denied breaks and getting them and that the company stopped forcing workers to buy products past the expiry date so as to avoid losses.
On the other hand, more and more workers have come forward to reveal various incidents of abuse at the market.
ZSP is interested in achieving better working conditions in supermarkets and small groceries around the country and encouraging workers to organize.