Pracujesz na umowie śmieciowej? Możemy pomóc!
Government Fulfills Demand; More Help for Workers on Trash Contracts
Anonim, pt., 19/06/2020 - 23:22
Image: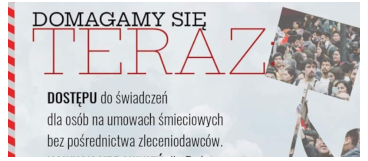 In response to the Coronavirus Epidemic, the government adopted a series of measures meant to provide help to business and to workers – mostly the former. We immediately pointed out that there were a few major problems and drew up a list of demands. One of the demands related to supposed help to workers whose income dropped because of the virus. Workers who are not on a work contract but are "independent contractors" (which is about 2 million people in Poland), were not allowed to apply for this relief directly but the company they work for had to do it. Since many of these people are employed as contractors to circumvent the labor law, the employers were not submitting claims and people were left without any help. Today the government finally changed this and workers can submit the forms themselves.
We think that now a huge amount of people will be able to get help. Many people were left with no income because of the pandemic and were unable to get any help.
On May 29, we held a protest at the Parliament and spoke about this huge problem and raised our demands. Tomorrow we are participating in another protest and we will remind the public of the rest of the demands that still need to be fulfilled.
See:
https://zsp.net.pl/protest-parliament-against-anti-worker-measures
https://zsp.net.pl/government-makes-crisis-worse-protest-parliament
https://zsp.net.pl/demands-may-day