Pracujesz na umowie śmieciowej? Możemy pomóc!
Another Victory against Wage Theft
Anonim, nie., 15/01/2023 - 18:55
Image: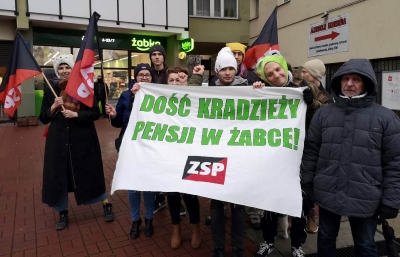 The Struggle Continues
Another worker from Zabka convenience stores was able to get money which he was owed after ZSP announced it intention to picket the store.
The worker's rights were violated in several ways: first, he was fired for requesting a day off and was not paid for the time he worked in that last month. As it turned out, he also had been receiving less than the minimum wage and was not paid any overtime pay and was illegally employed, with no contract. Besides this, he was subject to working conditions which in Poland are illegal for people under the age of 18.
We decided to make a picket and sent information about the money that he was owed, calculating the difference between the legal minimum wage and what he was receiving.
The day before the picket, the young worker received the money on his account so we considered the conflict closed. However, we still went with a symbolic picket to Zabka because we had already announced it and were not sure everybody who heard about it was informed. Also, we think it is only fair that we stress to the bosses that they cannot silence us about what they are doing.
Zabka is the largest convenience store in Poland. It is rapidly expanding, with over 9000 shops in the country and more than 500 in Warsaw alone. It is owned by the shady CVC Capital Partners, a spin-off of Citigroup. The chain operates as a franchise and we can see that, although there are franchisees who follow the law, Zabka stores very often act in violation of the labor code and cheat workers in various ways. We are aware of many problems occuring at this chain around the company.
Like all franchisers, the owners of the brand try to make us believe that they have nothing to do with the illegal labor practices in their stores but there are no clauses about working conditions in the franchise contract and no contractual penalties for exploiting workers. It isn't that Zabka doesn't put penalties on its franchisees; tons of people have faced huge lawsuits by Zabka for various issues. The company is interested in earning as much as they can and has no qualms taking advantage of their franchisees but we see that working conditions are not on their list of priorities.
In October we organized pickets in Warsaw and in Grodzisk Mazowiecki at Zabka stores and also managed to get payment for other workers whose wages were stolen. (In Polish: https://zsp.net.pl/wygrana-zsp-z-zabka-w-warszawie-i-grodzisku) In the past, we held similar actions at a number of shops in Warsaw and other cities in Poland.
Our union will keep the pressure up on this chain, which is now a major employer in Poland and an employer of people who are vulnerable to exploitation and wage theft.
Workers are not to be screwed with and we will fight back!
ZSP Warsaw